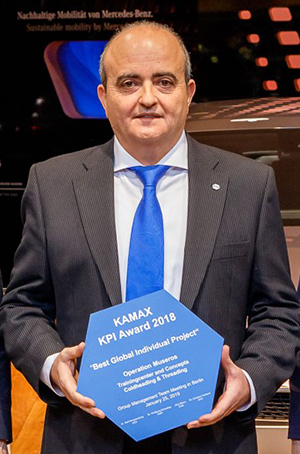 José Puchau, associate professor of the Department of Mechanical and Materials Engineering of the Universitat Politècnica de València (DIMM-UPV),
professor of the ETSID
in the MUDFIAC master and engineering director of the KAMAX Group in his Museros plant, has been awarded with the Prize for the Best Personal Success Project at the KPI-Award Ceremony gala held at the Mercedes Benz Gallery in Berlin (Germany).
Puchau, responsible for the creation of the Valencia Training Center in 2014, has accumulated 22 years dedicated to the training of professionals – more than 1,500 and more than 50 manuals and 400 operational videos.
KAMAX is a multinational of production of fastening elements and complex cold forming parts with 12 sites around the world. With more than 3,500 employees, its turnover exceeds 750 million euros per year.
The effort of a team "whose main task is production, not training"
Satisfied by the recognition, the associate professor of the UPV has pointed out that the merit is "the effort of a whole team whose main task is production, not training, yet, despite everything, time has been taken, not You know where to do all the training tasks. "
Formative tasks of relevance that Puchau has led in the KAMAX offices in China, the Czech Republic, the United States and Germany. At the time of awarding the prize, KAMAX has also taken into account the implementation of the DUAL Training, which allows young Valencians to work in the United States, Germany and, as of this year, also in Mexico.