16 students of the Degree in Aerospace Engineering UPV, before a challenge: build the first ultralight university plane in Spain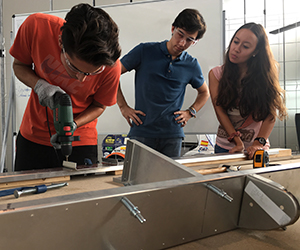 A team of 16 students from third and fourth year of the Aerospace Engineering Degree from the Universitat Politècnica de València (UPV) is working on the construction of the ultralight aircraft Zenith STOL CH 701.
The project, born thanks to the Vicente Silvestre Foundation and Consuelo Juliá, who have donated the plane in pieces -5,000- so that the students can put into practice the knowledge acquired, is coordinated by the UPV professor Carlos Vila Pastor.
"It is an experimental North American aircraft," explains Vila, "and his name is Zenith STOL CH 701, STOL being the acronym for an experimental plane for takeoff and landing in short spaces."
"We want to pilot it"
The work team meets every Wednesday at the Pedro Duque hangar of the School of Design Engineering (ETSID-UPV). There, as Carlos Haro explains, "you can learn to apply the theoretical knowledge that is acquired in class after much effort".
This practice is key for students. In that aspect, Alicia Muñoz says: "I'm learning a lot about the manufacturing part, what I like most is to be in contact with the plane.
In any case, the objective is to take the practice to the end, since, as Vila indicates, "we want to pilot it and be the first Spanish university to have a plane assembled by the aerospace engineering students themselves".
Monitoring and approval of the AESA
To this end, the UPV has requested the Spanish Air Safety Agency (AESA) to monitor the assembly, so that, at the end of certain phases of the project, one of the engineers of the agency supervises, in the hangar, that the assembly It is correct and conforms to the aeronautical regulations.
So, if everything goes well, the idea is that by the end of this year the aircraft is completely built and, after the approval of the AESA, the engine and the rest of the ultralight instrumentation, which weighs less than 450 kg and measures 8 meters in span, 6'5 in length and 2 in height.
(www.upv.es)