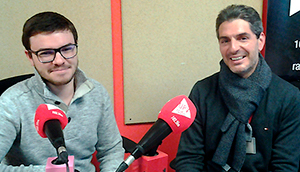 Source: http://www.upv.es/noticias-upv/noticia-10814-dia-mundial-de-es.html
UPV Radio, the official transmitter of the Universitat Politècnica de València (UPV), commemorates today the World Radio Day with the premiere, at 11 am, of Polifacètica , its new program aimed at the university community.
Polifacètica includes several sections, such as "Hui preguntate jo", where students interview teachers who have marked their university education; "I've been talking about the free book," which allows authors and authors to present their publications; "Naturalment", in which the environment will be discussed; or "In Form", section dedicated to university sports results.
Repetition on Thursdays and podcast
Weekly and one hour in length, Polifacètica will be broadcast every Wednesday, from 11 a.m. to 12 p.m., live, through the 102.5 FM, with replay on Thursdays starting at 6.30 p.m. In addition, it can also be heard via podcast , at any time.
This new space of UPV Radio was created with the aim of bringing the radio to all sectors of the university community: students, faculty and administration and services personnel. For any suggestion, proposal or interview that you wish to carry out, do not hesitate to contact us through polifacetica-rtv@upv.es or by sending us an audio of whatsapp to 673.935.836.