A student of the Master of Design of ETSID wins the XXIII Industrial Design Competition of the Furniture with Plier Bureau, a reinvention of the traditional secreter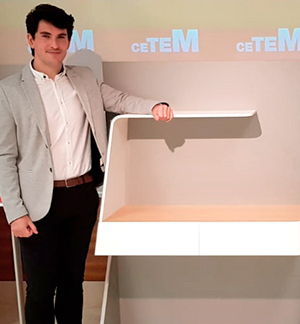 Plier Bureau, the furniture designed and realized by the student of the Universitat Politècnica de València (UPV) Jon Ander Acarregui, has been recognized with the first prize of the 23rd edition of the International Furniture Design Industrial Competition, organized by the Technological Center of the Furniture and Wood of the Region of Murcia (CETEM).
The design of Jon Ander, which has been imposed among the more than 40 projects submitted, from countries such as Mexico, Germany or the United States, in addition to Spain, has received 3,000 euros as a prize and the industrial registration of the project.
Reinvention of the secreter
With Plier Bureau, Acarregui wants to recover the tradition of the secreter, furniture with drawers and a writing board practically in disuse. And he wants to reinvent it with his mind set on young people who want to save space without losing the functionality offered by their storage drawers, in addition to their built-in bookshelf and light.
The qualities of this piece, manufactured by Muebles Orga, make it also attractive for use in hotel rooms or halls.
The origin
Regarding the origin of the idea, it was Amparo Jordá Vilaplana, from the Graphic Engineering Department UPV, who encouraged Jon Ander to participate in the contest when he was studying the subject Product Design for Equipment in the Degree in Engineering in Industrial Design and Development of Products that is taught at the Campus of Alcoy UPV. Currently, Jon Ánder Acarregui holds a Master's Degree in Design Engineering from the UPV.